850 € TTC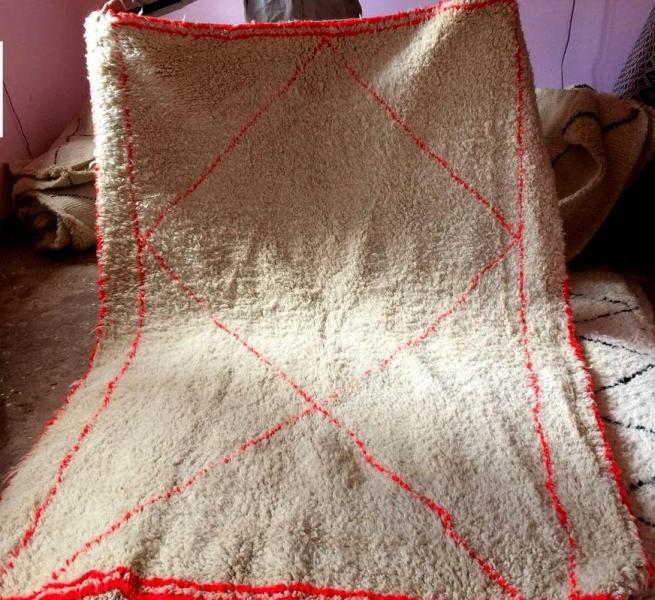 Our Beni Ourain rugs are hand-woven by Berber artisans in the mountain side of Morocco.
double-knotted, un-dyed 100% natural wool carpets – characteristically heavy white pile with geometric diamond designs – each one unique.very authentic Beni Ourain rug is unique in its own design and color. Unlike mass produced alternatives, each rug is truly distinct and durable over time.

Style: Handmade Moroccan Beni Ourain Rug | Origin: Morocco| Material: 100% Nature Wool | Size: 2m47cm x 1m64cm
This original item was handmade using the local materials and tools below
Wool

his genuine natural wool comes from local sheep herds and can be found in souk, or marketplace. However, this cooperative only uses wool made from their homes and sheep, rather than buying it at the souk.

Africancreates

225 élément(s)
à Rabat



Berber for 'HOME' | Beautiful and unique Rugs from Morocco. 📢 Wholesale: Email us.
sales@africancreates.com
WE SHIP WORLDWIDE

Région : Autre
Departement : Autres / Indéfini (AU)

Contact Africancreates, Rabat Morocco Amine Mounir

Adresse :
Lot Ek kheir hay haj kacem N716 CYM Rabat Maroc
Rabat
Tél. 00212613368458


https://www.africancreates.com



Partage réseaux sociaux :

- Facebook
( 127 visites depuis le 07/02/2017 )