780 € TTC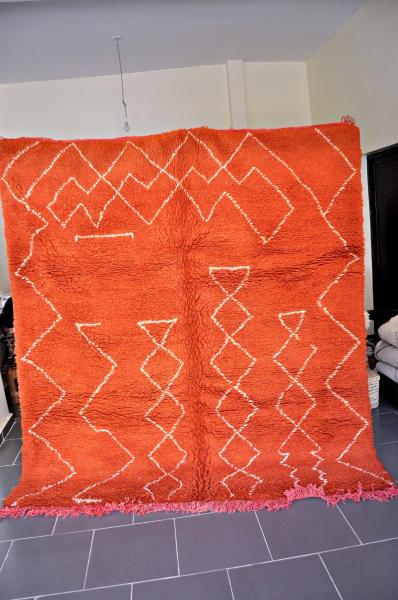 Azilal rugs or tribal carpets from the Azilal region in the Atlas Mountains are traditionally woven by Berber women for domestic use. The wonderfully wild and abstract compositions silently give insight into a culture which has its roots in heathen religions. The minimalistic and abstract images are expressions of the natural environment and translate the joy, fear, and aspirations of the weaver.

Handmade from fine graded wool, the vintage Azilals has a natural, soft wool background with vibrant colored motifs or geometric designs. They have different density and thickness-few are warm and thick like a Beni Quarain while few may be light to feel and see. Designs and colors of each of the carpet is a creative expression of Berber women which has become a functional piece of modern art.

They are unique pieces of modern art to decorate your floor or wall. These beautiful rugs are a sumptuous soft pile that is woven with weaver's imagination, color design, and motifs expressing Moroccan tribal tradition. Each piece has been selected by us letting us offer most unique online rugs for you sourced directly from Morocco.


Africancreates

225 élément(s)
à Rabat



Berber for 'HOME' | Beautiful and unique Rugs from Morocco. 📢 Wholesale: Email us.
sales@africancreates.com
WE SHIP WORLDWIDE

Région : Autre
Departement : Autres / Indéfini (AU)

Contact Africancreates, Rabat Morocco Amine Mounir

Adresse :
Lot Ek kheir hay haj kacem N716 CYM Rabat Maroc
Rabat
Tél. 00212613368458


https://www.africancreates.com



Partage réseaux sociaux :

- Facebook
( 127 visites depuis le 07/02/2017 )