390 € TTC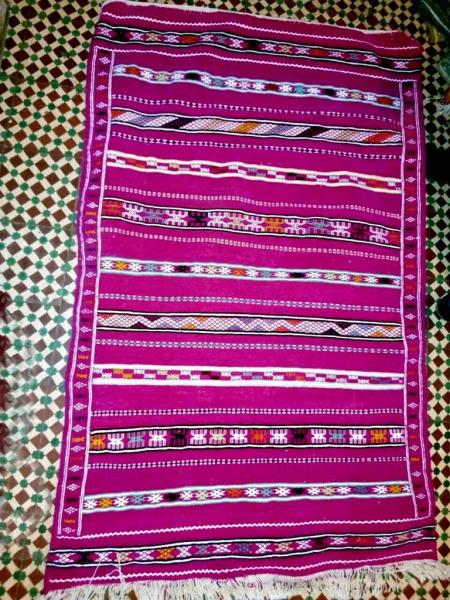 These Moroccan Kilim Rugs are all hand-woven 100% wool rug will make a wonderful accent piece in your home.

Moroccan kilim rugs have got more popular than ever. These colorful rugs decorated with graphic patterns and tribal symbols are still featured prominently in the most iconic mid-century homes.

Many great stylists find that Moroccan kilims are the perfect accompaniment to classic, modern or eclectic mid-century furnishings.

Explore our exceptional collection of authentic Moroccan rugs and kilims, ranging from Berber rugs, vintage Berber rugs, vintage Moroccan rugs, antique rugs, Moroccan Atlas rugs, Rag rugs, Boucherouite rugs, Beni Ourain Rugs and Berber kilims. Known for their symmetrical designs, our rugs are traditionally hand woven by skilled women artisans in Morocco and no two are the same. Pair yours with solid colored walls and furniture for an amplified home appeal.

Our rugs are a splendid combination of Berber designs and motifs, adding a touch of texture and softness to your homes. We have a wide range of traditional as well as modern and bold kilims. You can use them as sofa covers, decorative tapestries or tribal rugs for your floors. They are handmade by skilled Moroccan artists. Explore our eye catching designs of moroccan kilim rugs.

Colorful rugs with tribal symbols and graphic patterns are used for enhancing the whole décor of your homes. Present trendsetters and designers have discovered eclectic beauty and versatility of these rugs.

Similar to various Moroccan carpets, these stunning berber kilim rugs have human energy and warmth which adds an inviting touch to minimalist and modern décor.

Africancreates

225 élément(s)
à Rabat



Berber for 'HOME' | Beautiful and unique Rugs from Morocco. 📢 Wholesale: Email us.
sales@africancreates.com
WE SHIP WORLDWIDE

Région : Autre
Departement : Autres / Indéfini (AU)

Contact Africancreates, Rabat Morocco Amine Mounir

Adresse :
Lot Ek kheir hay haj kacem N716 CYM Rabat Maroc
Rabat
Tél. 00212613368458


https://www.africancreates.com



Partage réseaux sociaux :

- Facebook
( 121 visites depuis le 07/02/2017 )