340 € TTC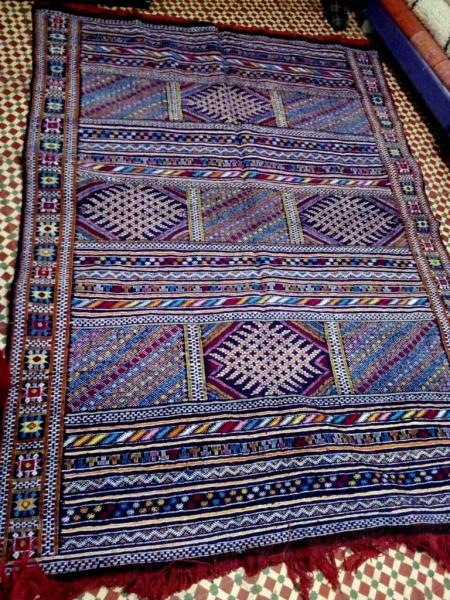 The Moroccan Kilim is a very beautiful vintage color with Berber motifs and designs.
This beautiful piece of art was hand-woven by the Berber tribe with natural wool and dyes. It will be a showstopper in any room with its vibrancy and Berber tribal design. These rugs are also frequently hung on a wall. Just like the Azilal rugs, they also tell a tale of the daily life of the weaver.

Kilim in pure wool with hand-woven traditional patterns.

The design of symbols and geometric patterns reflect a rich history and the art of the craft of the tribe.

This traditional kilim can integrate with all your interior styles (mature, floor, ceiling...) and will add an ethnic decorative accent and rich colors to your home.Berber Rug.

Africancreates

225 élément(s)
à Rabat



Berber for 'HOME' | Beautiful and unique Rugs from Morocco. 📢 Wholesale: Email us.
sales@africancreates.com
WE SHIP WORLDWIDE

Région : Autre
Departement : Autres / Indéfini (AU)

Contact Africancreates, Rabat Morocco Amine Mounir

Adresse :
Lot Ek kheir hay haj kacem N716 CYM Rabat Maroc
Rabat
Tél. 00212613368458


https://www.africancreates.com



Partage réseaux sociaux :

- Facebook
( 127 visites depuis le 07/02/2017 )